Welcome to the Ford Edge Forum
Start new topics and reply to others
Subscribe to topics and forums to get email updates
Get your own profile page and make new friends
Send personal messages to other members
Create a photo album and post images. . .and more!
Click here
to signup now
1
PTU Leak 2013 Edge LTD AWD
Uploaded by edge1217 , Apr 28 2018 06:19 PM
ptu drip leak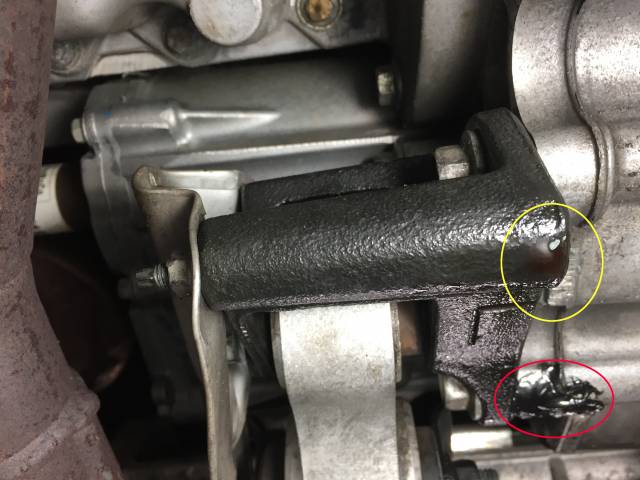 This is a persistent leak immediately following PTU replacement. Just 37 miles after I got it home from the PTU replacement, I noticed it was dripping. The dealer says it is residual trans fluid from when the old PTU failed (blew fluid through the upper valve), and that the residual fluid was dripping onto transmission mount. They cleaned it off and assured me the leak was stopped, but it hasn't stopped dripping in the 2 weeks that followed, so it's back to the dealer for a 3rd visit for this problem. The yellow circle is where it drips, and it looks reddish brown like old transmission fluid. The red circle is a strange hunk of goop that I noticed after I brought it back to have them check the persistent drip after the new PTU was installed. Is that black stuff gasket sealer, or did they try to plug a drip with some kind of sealant? It looks strange to me and I have zero confidence in this dealer's service department. 
PTU Leak 2013 Edge LTD AWD