So, I really don't love the look of the "triangle" lights on the bumper of the gen 2 edge.  I'd rather have the straight style like on the gen 1 edge. 
I'm thinking of blacking out the triangle lights, and fitting the gen 1 lights into the slots horizontally underneath the current triangle drl's. anyone have dimensions of those lights, so I can begin trying to sort out what lights I may be able to buy, and just swap out connectors and rewire?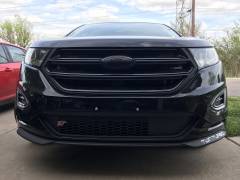 Notice the horizontal slots underneath the current lights. They are just a plastic removable bezel, and I think I can most likely cut to fit something else in there.
even something as cheap as this may work
https://www.amazon.c...s/dp/B00HCSBQ7Y
anyone have dimensions or other thoughts? 
Also, does anyone know the watts/amperage of the stock lights so I can get something that is a close match to factory
my secondary reasoning is because I'm in the process of building a cold air intake, and one of the best places to locate it seems to be exactly where the current DRL is located on the driver side. lots of room for me to build some tubing to get air directly into the air box.
Edited by Mikula, 15 April 2018 - 09:14 PM.